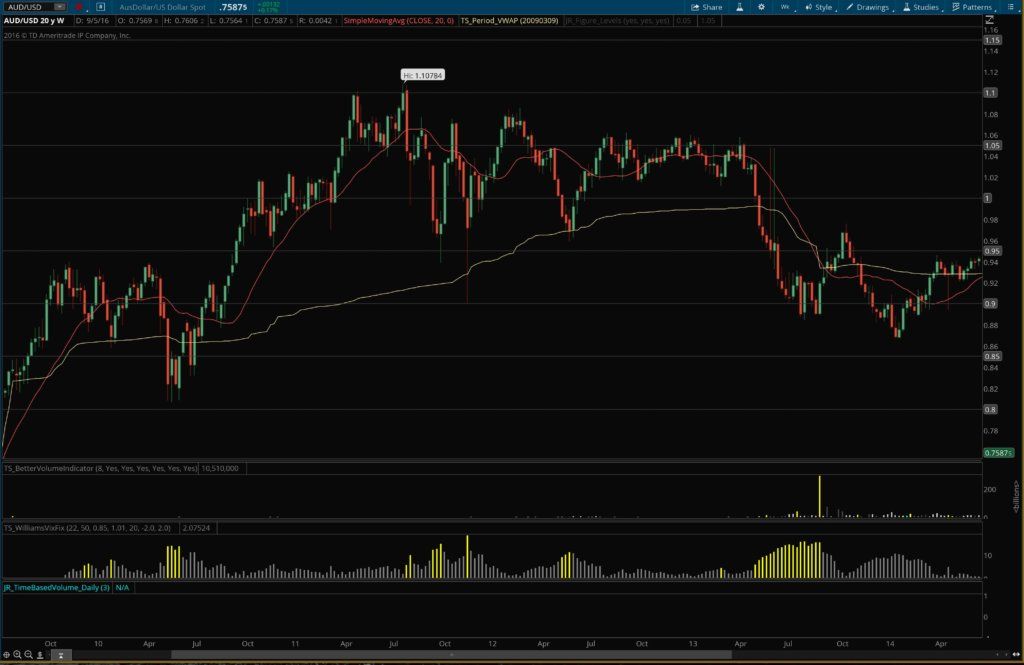 We're traders, but we're also human … and the human brain gravitates toward simplicity. That's one of the reasons why in trading, there's just something about whole numbers, round figures, fifties, hundreds, etc. — trend direction just always seems to change at or near levels like these more often than elsewhere. And with this new study for ThinkOrSwim, you'll be able to easily identify these areas, where there's a greater likelihood of reversal. When price is approaching a whole figure, you'll be able to see the area on the chart without guessing. Now you'll never have to worry about forgetting to check for nearby psychological figure levels before placing your trades — you'll automatically be reminded of them in advance!
Works for stocks, futures, penny stocks, and forex. The color of each line, as well as individual line thickness and style (solid, dashed, dotted, etc.) are all completely customizable. You can also turn on/off the price bubble for each line on the right side of the chart. In addition, you can specify in the properties whether you want the indicator to show single digit levels below $10, and .05 increment levels below $2.
The numbers highlighted by default are as follows:
Counting by .05s from 0 – 2: (.05 .1 .15 .2 .25, etc. — these are good for forex and penny stocks)
Counting by 1s from 0 – 10
Counting by 10s from 0 – 300
Counting by 25s from 0 – 500
Counting by 50s from 0 – 1000
About Josiah
Hi guys, I'm Josiah, and I'm a trader/programmer from the Nashville, TN area. I recently finished up both a bachelor's and a master's degree in Computer Information Systems at a local university and have been self-employed since then, trading and developing projects with Ruby on Rails on the side. Since I was already familiar with a certain amount of programming, and had an active interest in trading and investing, learning ThinkScript — the scripting language for the ThinkOrSwim platform — made a lot of sense, and helped me develop a platform configuration that really streamlined my trading workflow.
About the ThinkScripts
These basically came about because I got so frustrated with the limited built-in capabilities in TOS, and standalone subscription services that charge $99+/month. So I decided to learn ThinkScript so I could develop indicators and scans for myself. I still use most of these thinkscripts every day while trading.
Questions?
Email me here or leave a comment below!