Description
Z-Score Distance from VWAP
The Z-Distance from VWAP is an indicator I've become very interested in with my own trading. The basic concept is that it's an oscillator denominated in standard deviations from VWAP (volume weighted average price), and the graph plots how many deviations away from VWAP a symbol is currently trading at. So when price gets too far below VWAP — 2 standard deviations by default — the indicator lights up and sends you an oversold alert, signaling that it may be a great time to buy. Likewise, when price gets too far above VWAP, the indicator lights up and sends you an overbought alert, signaling that it may be an ideal time to sell or go short. I like this indicator because it is very simple to understand, seems almost ridiculously reliable on some symbols, and is super easy to build a trading system around. Also, it's based on statistical tendencies that can be tested and verified, so it just checks a lot of boxes for me.
This package includes the indicator with customizable alerts, overbought/oversold levels, colors, and styles, as well as a custom watchlist quote column displaying each symbol's Z-score distance from VWAP, and a custom scan to find overbought and oversold stocks based on their Z-score distance from VWAP. It also includes a backtest-enabled strategy script to plot a theoretical profit & loss on any instrument you choose.
This package gives you all the tools you need to find, sort, evaluate, and consistently trade VWAP mean reversion strategy based on Z-distance from VWAP.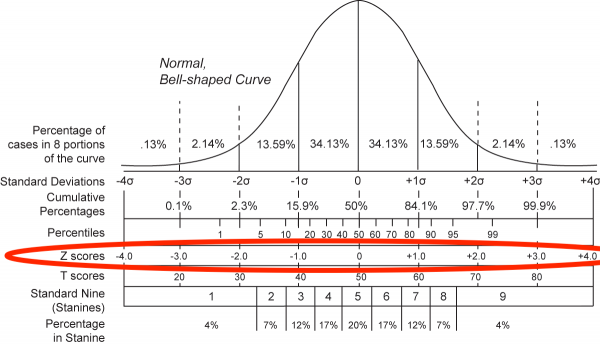 What You Get
Lower chart study / indicator with 6 pre-configured, customizable overbought / oversold levels
Stock Hacker Scan to find stocks greater than 2 standard deviations above or below VWAP
Watch list column showing each symbol's Z-score distance from VWAP, for quick sorting
Backtest-enabled strategy with 2 target settings and customizable percentage-based stop
How It Works
This indicator package is only intended to work on intraday charts currently. To learn more about Z-scores (Z-values or normalized scores) I recommend checking out this article on Wikipedia.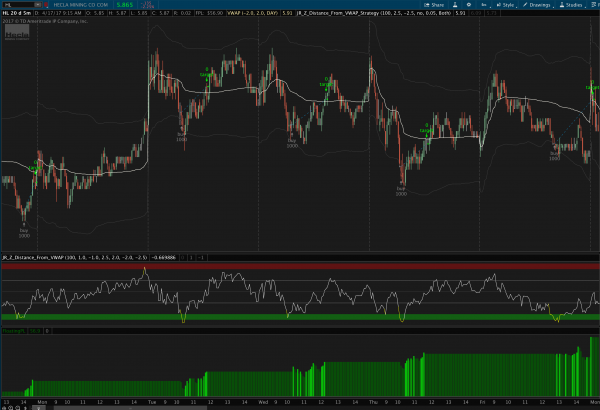 Strategy Example 2.
Questions?
We're always happy to answer questions, and full email support is provided with every purchase. We'll make sure you get up and running. If you have questions, email us here or leave a comment below!