Description
Auto Fibonacci Levels: What It Is
The Auto Fibonacci indicator automatically plots Fib retracement and extension levels on your chart based on any range you choose — whether the regular hours high and low today (or yesterday), today's all-session high and low (premarket and aftermarket included), the opening range (initial balance) high and low, or any of the built in daily, weekly, or monthly period highs and lows, either current or past.
You can customize each of the 5 individual Fibonacci levels to whatever percentage you want. By default they come as:
23.6%
38.2%
50%
61.8%
78.6%
Save tons of drawing and analysis time each day by automatically plotting your retracement levels with the Auto Fibonacci indicator. Each morning, the newest and most current levels will already be added to your chart, saving time and effort.
You can show or hide any of the levels as you prefer. Optionally, you can plot the retracements by themselves, or include the upward extensions, and/or the downward extensions as well.
In addition, the indicator comes with TRADING ALERTS! Get an alert whenever a key Fibonacci level you're watching is crossed! Get an alert for any, all, or none of the levels, as you see fit. Customize all colors, pivot line styles, etc.
What You Get With NEW Auto Fibs

v3.35

!
Indicator

Three EIGHT (8) different custom range settings

Built In Time Trames: Range based on any current or prior daily, weekly, monthly, or 4 hour high-low range, etc.

Can be scrolled back in time to ANY day/week/month on your chart, i.e., show today or yesterday's levels on today's chart

Daily range including pre-market and after-market activity
Opening range or initial balance based on a custom start and stop time (can be first 30 minutes high/low, first hour, etc.)
Range based on any 2 manually-entered prices on your chart
Range based on any 2 manually-entered dates on your chart
Rolling period/length of bars

Range is based on the highest high in the past x-number of bars and the lowest low in the past x-number of bars

Full chart high-low

Range is based on the highest high and lowest low currently loaded on your chart. You can adjust your chart data to show a year's worth of data to get the yearly range, or 5 years' worth of data to get the 5 year range, for instance.

ZIG ZAGS!

Show the range based on the current Zig Zag swing, or any of the past 5 swings. PLUS … now you can even choose to start plotting the range from a totally different swing point than the range is taken from, any of the past 5 points, similar to the Fib Extensions tool, only automatic!

Event-based ranges!

Plot ranges from the highest high/lowest low since the last earnings or dividend release date!

Five (5) different Fibonacci retracement levels
Fibonacci extension levels (upper and lower) … this allows you to clone the retracement range and project it above and below the current range.
Custom Fib Level Percentages
Show or hide any Fibs level, and change all colors and styles
Show or hide percentage bubbles/balloons
Show or hide price bubbles for each line
Enable or disable alerts for any Fibonacci retracement or extension line

NEW! Includes Scanner!

Scan for current bars crossing below any Fibonacci level you want, whether 61.8% or 50%, etc.
Choose your range type: current year, month, week, or day
Choose a crossing direction: scan for price crossing above or below the line, either way
Choose which price you want to scan for crosses on, whether close (last), high, low, open, etc.
Auto Fibonacci Video
Screenshots of Auto Fibs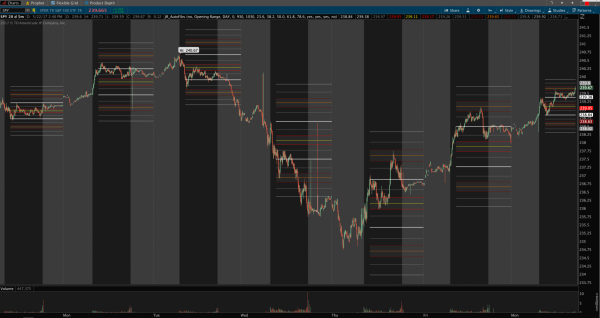 Frequently Asked Questions
How do I install these indicators?

For all our ThinkScripts, we use the special ThinkOrSwim import links that automatically import the script into your platform. Immediately upon checkout, you'll be taken to a page with the install link, and you'll also receive it for your records via email. There are 2 ways to use the import links:

Method 1: Just click the link, and click the big green confirm button on the next page, and the script will be automatically imported into your platform. Then you just load it up like any other script in your platform. This is the easiest method, but certain browsers might have trouble recognizing the links. If yours does, just skip to the next method.
Method 2: If your browser is incompatible with clicking the links, no problem! Just select and copy the link you'll be sent after checkout. Go to the Setup menu in the top right corner of ThinkOrSwim, and click "Open shared item". Then paste in the link and follow the prompts and it will immediately import the script into your system.
Screenshots, video walk through, and a full tutorial video are available here.

Does it come with free updates?

Yes!

We've always provided future updates for free to our clients. Just log back into the website (reset your password on the login page if you've forgotten it), and go to My Account / Orders, and click the VIEW button to view the order and get the latest links.

Does it work with the mobile app?

Unfortunately no. Most custom indicators are too complex for Thinkorswim's mobile app. The mobile app doesn't allow the use of any multiple time frame data, any special coloration, etc., so it's pretty limited. All of our scripts are intended strictly for the Thinkorswim Desktop platform.

Does it work on tick-based charts?

Yes! While intraday period ranges (such as hourly highs-lows) are not allowed, daily ranges are allowed, as well as rolling ranges such as the high-low range of the last 100 or 200 bars, etc.

What if I need help or support?

Full email support is provided with every purchase. We're happy to help and will do everything we can to make sure you get up and running. Just email us here.
More Questions?
We're always happy to answer questions and full email support is provided with every purchase. We'll do everything we can to make sure you get up and running. If you have questions, email us here or leave a comment!