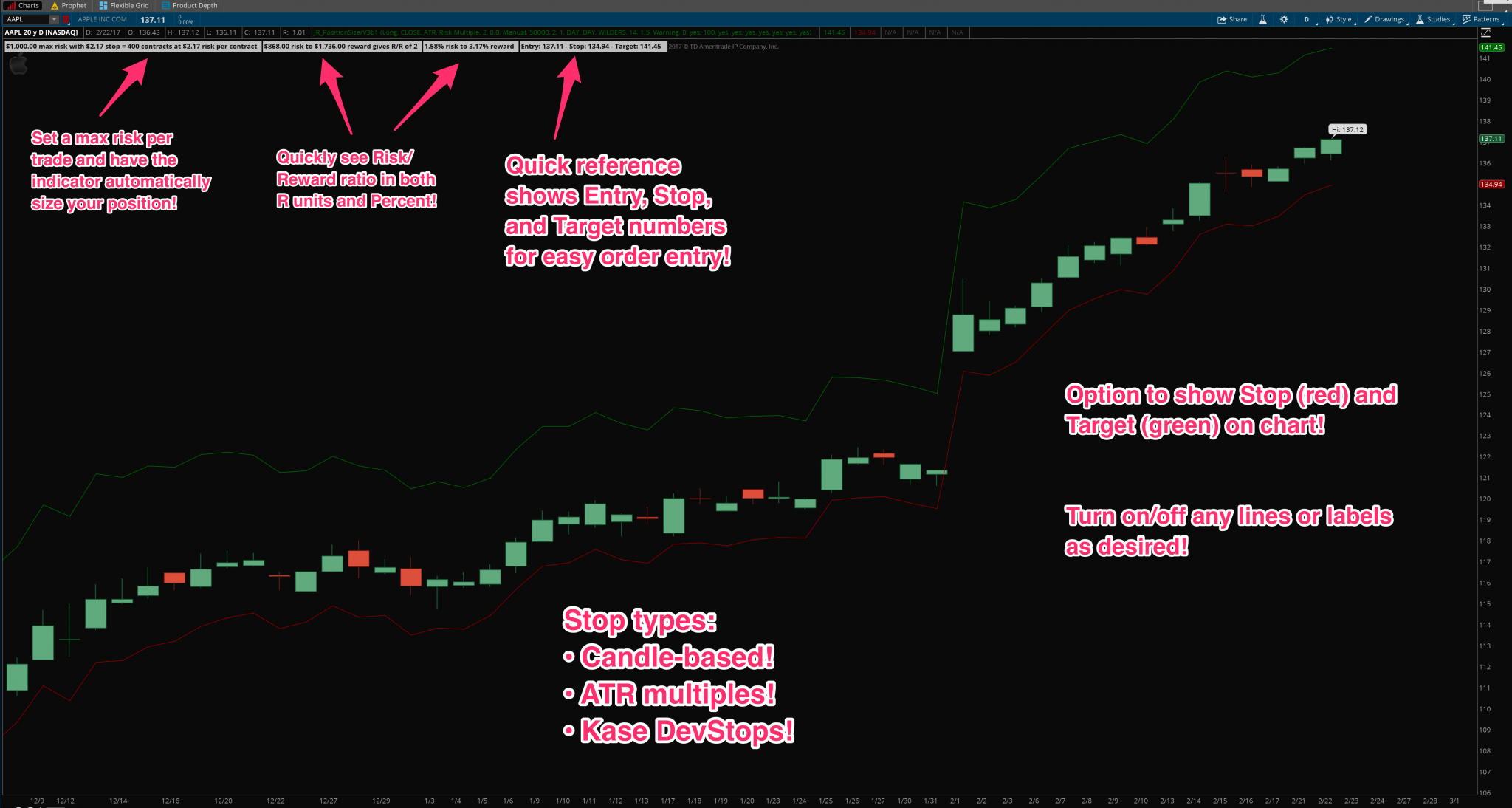 New Features for the ThinkOrSwim Position Sizer
I recently finished up a complete redesign of my ThinkOrSwim Position Sizer, and I wanted to post a quick announcement and go over some of the new features. I'm pretty excited about what I've been able to do with it, and I really hope others will find it as useful as I do.
The original implementation was basically a candle high/low position sizer. It calculated entries 1 tick above the high and your stop was 1 tick below the low of the candle, and it would size your position based on that stop size. Additionally, it only worked on stocks. I had originally made it to help me quickly calculate price action entries and exits and get the right number of shares each time, and it did that well for me, but wasn't very flexible for other traders' needs.
The new indicator is completely different and vastly more powerful.
New Features
Works on Stocks, ETFs, and now Futures too!

Automatically account for the minimum tick size and tick value of futures contracts

Choose a percent of your buying power to risk on each trade
Script automatically grabs your current account balance and calculates the right amount of shares/contracts to buy based on your predefined risk tolerance

Optionally specify a manual/theoretical account balance
Specify a buying power multiple (2x or 4x account balance, etc., or just leave at 1x to use no margin leverage)

NEW STOP TYPES!

Candle/bar price action stops and entries as before
New!

ATR stops

Specify a custom ATR multiple to use for stops
Change every aspect of how the ATR is calculated if desired

New!

Kase DevStops

Choose between 4 different DevStop standard deviation levels

New entry methods!

Choose trade direction, long or short
Specify to calculate entries from the close, open, high, or low
Add custom padding for slippage or breakout entries to both entries and stops

Example 1: enter 1 tick above the high of a candle, stop 1 tick below the low, etc., to simulate a stop-market entry and exit
Example 2: assume 1 tick slippage on entries and stops, regardless of entry type

New target methods!

Choose an automatic target based on a multiple of your risk (stop size).

Example: if your stop size is $2, you can specify a 1:2 risk/reward ratio, and it will automatically calculate your target price as $4 above your entry

Choose a manual target price for your trade and automatically get the risk/reward in both Risk Units (Rs) or in percentage terms

Optionally round the shares or contracts to the nearest 10, 100, or whatever other number you specify
Show/hide any labels or lines on the chart
Change label and line colors as desired
Question mark icon / Tooltip for each option explains every setting in detail
How to Get the Updated Version
A quick note: previous purchasers will OF COURSE get the updated version for free! I really appreciate your support, and the updated links will be waiting for you in the My Account area under My Orders, as with all updates I release. If you have any trouble getting the links, just contact me and I'll make sure you get setup.
If you haven't purchased the Think-Or-Swim Position Sizer yet but you think it will be of benefit to your trading, you can pick up your copy here:
Screenshots