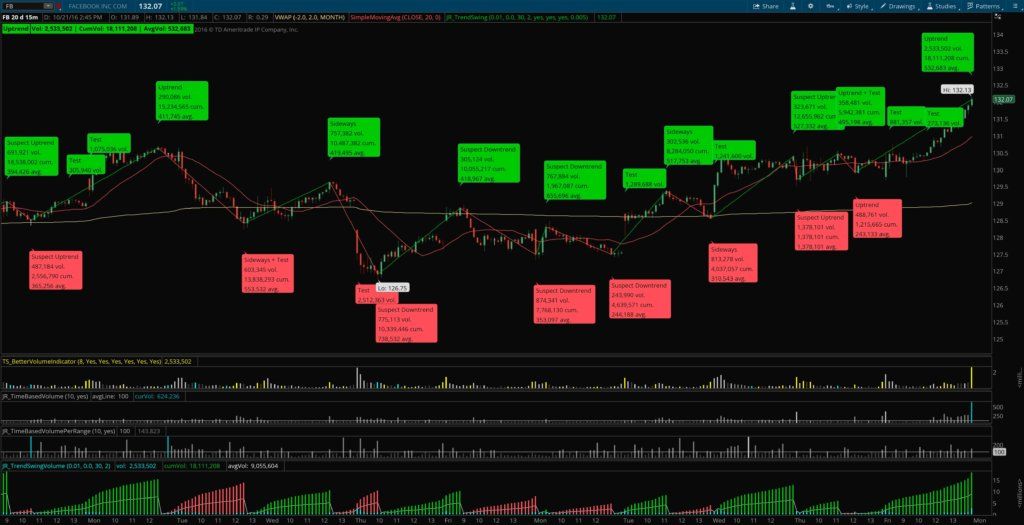 Weis Wave Volume, Zig Zag & Ord-Volume Indicator for ThinkOrSwim
The Weis Wave Volume & Ord-Volume indicator combines features similar to L.A. Little's work on objective trend identification and pivot breakout evaluation using volume, with the work of David Weis and the Weis Wave concept, plus the ideas of Timothy Ord and his Ord-Volume indicator, as well as other traders/authors such as Anna Coulling and of course Richard Wyckoff.
What It Does
The upper indicator plots the classic zigzag waves, swings, and pivots using closing prices, based on either an absolute (price based) reversal, average true range (ATR) multiple reversal, or percentage reversal.
It then sums up all the volume in each "leg" or wave/swing and provides the absolute volume at the pivot high or low (useful for evaluating pivot breakout challenges), the total cumulative volume for the swing/wave/leg (similar to David Weis' Weis Wave indicator), and the average volume for the swing/wave/leg (similar to Timothy Ord's Ord-Volume). It can also plot challenges to a prior high that do not happen at a pivot point and plot the absolute volume for that particular bar on the chart (see image — this, again, is useful to comparing the challenge-bar's volume to the prior pivot it is challenging, to see if it has enough volume to win the challenge).
The lower indicator plots the cumulative, average, and absolute volumes per swing/wave/leg as a lower study similar to an oscillator or volume readout. This is a useful add on for those who don't want to keep the bubbles on the main chart — they can instead just look below and see what the current wave volume readings are.
Why You Need It
Helps you identify trends in a more objective way using L.A. Little's concepts of confirmed and suspect trends.
Helps you evaluate the quality of breakouts more effectively using L.A. Little's pivot challenge techniques.
Brings the popular Weis Wave indicator to ThinkOrSwim in a much more powerful and customizable way.
Brings the popular Ord-Volume indicator to ThinkOrSwim — previously completely unavailable.
Allows for a deeper, three-dimensional view of volume for Richard Wyckoff analysis enthusiasts.
Features
Show/hide labels, chart bubbles, and pivot test bubbles.
Choose between absolute (price-based), percentage, or ATR multiple-based reversal calculations for swings.
Customizable zig-zag colors.
Customizable bubble offset spacing around price chart.
Use either upper study, lower study, or both together.
Makes a great complement for other Wyckoff-style volume analysis tools such as my Relative Volume indicators.