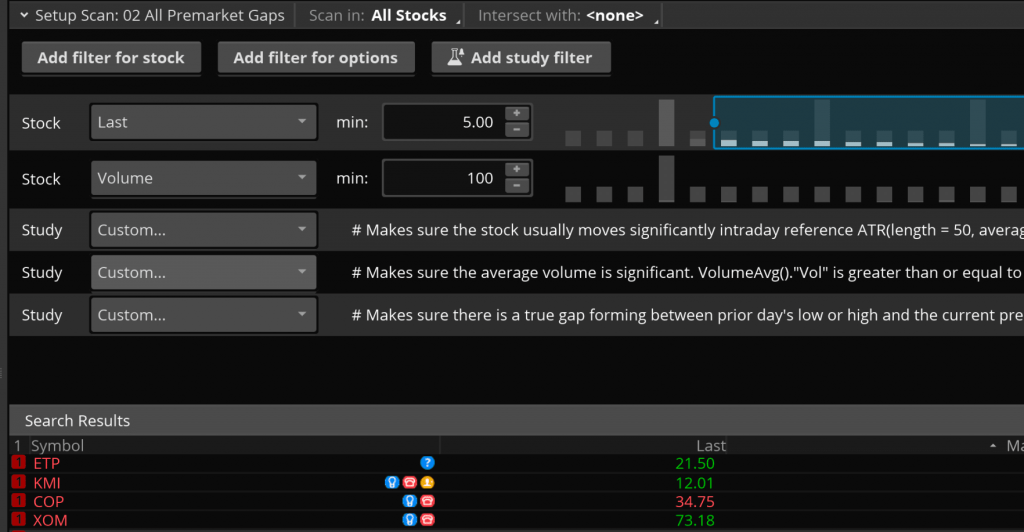 PreMarket Gap Scanners for ThinkOrSwim
With the PreMarket Gap Scanners for ThinkOrSwim, you'll be able to find and trade the best in-play stocks for the day before most traders even know what they are. Like to trade during the pre market hours? Easy. Want to trade in-play stocks in the first few minutes after the open? Check. Want to add gapping stocks to your watchlist to find continuation plays later in the afternoon. Done-and-done. This set of scans brings you the highest quality, highest volume, highest volatility stocks for the day before the market even opens.
What you get:
Custom-programmed premarket gap scanner that finds TRUE gaps.

(This is defined as low of prior day > last premarket price, or high of prior day < last premarket price). The built in gap lists can't do this! The built in lists only find small changes from the CLOSE of the prior day which don't mean as much for gap trading!

Two (2) custom-programmed premarket gap scanners that automatically look for PRO gaps

. These are gaps forming in the opposite direction from the previous day's movement (i.e., a gap down coming from a previous green day, or a gap up coming from a previous red day).
Two (2) custom-programmed regular trading hours scanners that narrow the built in gap lists down to only the most high-quality gaps. This scanner takes the existing gap lists in ThinkOrSwim (that work only after the market has opened) and weeds out the garbage, narrowing the list down to only the best gaps that are likely to form great setups during the day.
Why you want it:
Avoid hours of analysis … get a custom list of quality gaps delivered to you every morning without any work!
Allows you to log in 15-20 minutes before the market opens, grab your watchlist, and then

get back to important stuff like making your morning coffee!

Whether you trade with ThinkOrSwim or just use it for its free data, charting, and scanning capabilities, these add-on scanner scripts will make your life easier!
Buy it once and use if forever! I'm making my own scanners available to you without any subscriptions or memberships. This allows you to keep more of your monthly trading income for the things that matter in your life.
How to get it:
It's simple! ThinkOrSwim has a great "sharing" feature that lets users send each other their custom layouts, scans, indicators, and so forth.
I'll send you an email with special ThinkOrSwim sharing links that will automatically import the scans into your system.
$129.99 Add to cart
About Josiah
Hi guys, I'm Josiah, and I'm a trader/programmer from the Nashville, TN area. I recently finished up both a bachelor's and a master's degree in Computer Information Systems at a local university and have been self-employed since then, trading and developing projects with Ruby on Rails on the side. Since I was already familiar with a certain amount of programming, and had an active interest in trading and investing, learning ThinkScript — the scripting language for the ThinkOrSwim platform — made a lot of sense, and helped me develop a platform configuration that really streamlined my trading workflow.
About the ThinkScripts
These basically came about because I got so frustrated with the limited built-in capabilities in TOS, and standalone subscription services that charge $99+/month. So I decided to learn ThinkScript so I could develop indicators and scans for myself. I still use most of these thinkscripts every day while trading.
Questions?
Email me here or leave a comment below!
$129.99 Add to cart